Remove Salts Stains from Leather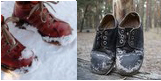 How to Remove Salt Stains from Your Leather Shoes, Boots & Jackets

If you've spent even a few weeks of winter in most North American cities during snow you will have experienced those white crusty flaky rings of salt on your winter shoes or boots.

You may have even had the "joy" of getting those same stains and marks in a favorite leather coat or jacket.

The salt that is placed on the roads and sidewalks to prevent us from slipping and sliding can be very destructive to leather in the winter time.

Is there a way to remove it? Yes there is, and you MUST remove it as quickly as possible to prevent even further OR permanent damage to your leather.

Inside your jar of Urad or Leather Mate are detailed instructions on how to get those pesky salt stains out of your leather shoes or boots and protect them against future damage.

INSTRUCTIONS:

If you have footwear that is encrusted with salt stains the following procedure will bring the footwear to NEAR new condition.


Place a damp towel over the salty area of shoes or boots for several hours or overnight. A shoe tree will work well for keeping the form of the footwear. Old newspaper will work as well.


Apply one or two applications of Leather Mate (or Urad) and let dry. You'll be amazed at the results obtained.


Regular use of Leather Mate (or Urad) will keep your footwear in near new condition for years.
CLICK HERE to order the product.